---
Dan Tuffy – Letters of Gold

Blending electronic and earthy sounds is a recipe for dissonance in the wrong hands but Letters of Gold is a songwriting and production triumph. 8 perfectly crafted songs that would easily have survived in unpolished singer-songwriter form now sparkle and growl with an ethereal glow thanks to production team Zlaya Loud and Micheal Turner. Already touted by critics as the best thing they have heard so far in 2020, this record is bound to cast a long shadow. Licensed to CRS for Europe. Available one CD, Vinyl and on all streaming services
Smoked/Continental Europe CECD 86 Order (14,99 Euro excl. postage)
---
Wild Pumpkins at Midnight – Lost Ocean

Back in 1997 just before WPAM broke up they recorded their final album "Instant Ocean" in Melbourne's iconic Bakehouse Studios in Fitzroy. The band actually recorded close to 40 songs in those final sessions. 29 songs never made it to the album but now, almost 25 years later, guitarist Nick Larkins has managed to salvage, mix & master those lost tracks. The results are astounding. The energy captured in these live recordings is a testament to the output and creativity of one of Australia's most original 90's bands
Digital release only. Available on all streaming and download platforms
Dan Tuffy – Songs from Dan
This is Dans first solo album after years of leading Big Low and being an accompanying musician in Parne Gadje. Those familiar with Dan's work in those two bands might be surprised by the direct simplicity of "Songs from Dan" but they won't be disappointed. This is straightforward country-noir, but with an attention to detail that forces you to listen to the stuff that's going on between the notes. It's a record not just for those who like songs, but also for those who like sound – with influences from the dustbowl to the present. The album was recorded in collaboration with the great Matt Walker and the wonderful Lucie Thorne. This is just a killer piece of work – it really is! Produced by Zlaya & Matt Walker
SR015 2015 Order (14,99 Euro excl. postage)
---
Lucie Thorne – Everything Sings Tonight
On her latest offering Lucie and her long time offsider, jazz drummer Hamish Stuart, truly hone their exceptional duet sound. At once bold, poetic and musically adventurous, Everything Sings Tonight traverses an expansive sonic palette, marking an inspired creative benchmark for the pair. Recorded predominately in Berlin and featuring heavyweight guests including Bo Ramsey, Chris Abrahams and Greg Brown, Everything Sings Tonight shines with "atmospheric, innovative… brilliance" (**** Sydney Morning Herald).
LSR 2015 Order (14,99 Euro excl. postage)
---
Parne Gadje – Po Drom
Po Drom is a shot of fiery ethnic underground that hits you like a bolt of lightning. Producer Simon Akkermans (DJ C-Mon & Kypski / Kytopia) has welded a tough electronic edge into the bands sound. This album definitely marks a turning point in the bands evolution. It is also the last Parne Gadje album that Michiel Hollanders (guitar/claude-violin/velofoon) weaves his magic on – and unlike previous albums, this time with loads of distortion! Bewitching and full of spark, Po Drom is an uplifting concoction of Greek, Romanian, and micro-Asiatic flavored Balkan styles delivered with unbridled passion and musicality.
SR013 2013 Order (14,99 Euro excl. postage)
---
Matt Walker – In Echoes of Dawn
In Echoes of Dawn is a stunning piece of work that moves from swamp-soul through to harmony-rich country blues and lilting piano-driven balladry. Matt's voice is haunting and pure, and his song-writing here is nothing short of a revelation. The release of In Echoes of Dawn come with a bonus disc Lost Ragas, featuring 50 minutes of instrumental music.
SPR 015 2012 Order (5,99 Euro excl. postage)
---
Lucie Thorne – Bonfires in Silver City
This album received extraordinary praise in her homeland, described by many as her best work yet, and sees Thorne further hone her spacious, gritty, "exquisite miniatures of distilled emotion" (The Canberra Times), with that signature warmth and intimacy for which her live shows have become so renowned
LSR09 2012 Order (5,99 Euro excl. postage)
---
Davie Lawson – Rags
This is Davies 3rd album released at the beginning of 2012. Recorded at the renowned Green Door studios in Glasgow, it listens like a sequel to his previous album "Tree Tumble Wake Mother" and has some great spontaneous playing on it from his backing band of piano, bass, drums and guitar. Like his previous album, "Rags" has a sense of urgency to it; his haphazard approach to recording works here as well, capturing the chemistry of one-take musical interaction that is driven by the energy of good songs and true-to-himself performance. Lawson is just a great emotive songwriter, under-rated, totally original and way too far underground.
CLTR001 2012 Order (5,99 Euro excl. postage)
---
Parne Gadje – Kefi Kefi
This the bands 5th album, released at the beginning of 2011,transforms folkloristic influences from Hungary, Macedonia, Greece, Anatolia and Afghanistan into some half-dreamed world where sufi's whirl in a trance. The deep groove of the fietsbandbas, the haunting melodies of the djura-gada and velofoon, and the trance-like beat of strange drums.This much is obvious; we were born to embrace life in all its beauty and torment. Parne Gadje tap into a higher plane here.
SR012 2011 Order (5,99 Euro excl. postage)
---
Lucie Thorne- Black Across the Field

"Black Across the Field" has been referred to by critics as the finest female vocal album released by an Australian in years. It won the Sydney Morning Herald Award for the Best Roots album of 2009 and was also shortlisted for the Australian Music prize. But this high praise for her voice almost neglects the fact that, apart from being a gifted songwriter and performer, Thorne is an extremely good guitar player with an above-average set of production values. She knows how to make a tube amplifier growl and her sensual approach to her craft has an edge that sets her apart from the rest.
LSR008 2010 Order (5,99 Euro excl. postage)
---
Davie Lawson- Tree Tumble Wake Mother

Welshman Davie Lawsons 2nd album "Tree Tumble Wake Mother" could easily find its home among the classics of the late 60's early 70's British folk sound. Comparisons to John Martyn, Nick Drake or more recently, Bon Iver are not out of place but, this is something else again. Welshman Davie Lawson walks an emotional tightrope this time, balanced precariously above an inner world, with everything swirling softly away into the dark below. His voice is true. See if you can find something false, overstated or unfelt here. We guarantee you wont.
SR011 2010 Order (5,99 Euro excl. postage)
---
BIG LOW – The Junction of the Two Rivers
Some people are going to refer to this as Americana but it's something else isn't it -we prefer to think of it as Australiana.What's that bit in the middle of that last song where all that glass and crystal shatters on the rocks? Like waltzing with a river in a flood, or like that feeling you get before a storm when it all goes dark and wrong. This is fierce fire and Big Low have done it again. A must hear for lovers of Woven Hand, Tom Waits or Calexico but particularly for those looking for something that doesnt sound quite like anything else you've ever heard.
SR010 2010 Order (5,99 Euro excl. postage)
---
PARNE GADJE – Mangupi SR009

Recorded during a series of theater concerts in Germany late 2006, this is Parne Gadje doing what they do best. 13 brand new tunes with the feeling that you are sitting in the front row at one thier shows – thier reputation as a phenomenal live band needs no further proof. We'll let the music do the talking here. From firey Rroma jigs, sparse rebetiko ballads and trance-like dervish grooves, Parne Gadje do it thier own way and answer to no-one. A "mangupi" is a slavic/balkan term for renegade, lawbreaker, non-comformist. Need we say more?
SR009 Order (5,99 Euro excl. postage)
---
DAVIE LAWSON – Konichiwa?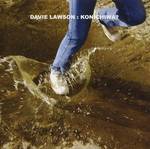 A warm and natural sounding singer/songwriter album from a young Welsh lad who sings like a bird and writes like a mad poet. Its just acoustic guitar and vocals but there isn't a weak song on it and that's why it's on Smoked. The recordings are raw and simple, the performances are heartfelt and the lyrics prosaic. Classify under quintessentially post modern English folk and put it in the rack amongst your early Bob Dylan bootlegs, just underneath the place where you keep your copy of "Jude the Obscure"
SR008 Order (5,99 Euro excl. postage)
---
KAMAL HORS – The Dance of the Lute

This is a beautiful album of instrumental compositions for UD written by Kamal Hors, a highly regarded composer and player. The atmosphere of the album is distinctly Arabic yet sparse in its approach. The rich and varied tones of the instruments of Kamals heart ring like night sounds in the Moroccan desert. Rhythmic and textural accompaniment is provided by two other expert Ud players and the whole thing is given an exquisite Indian twist with the presence of Sandip Bhattacharya on tabla's.
SR007 Order (5,99 Euro excl. postage)
---
GJUNLER ABDULA and PARNE GADJE – 'BIZOAGOR'

Gjunler Abdula is a Rroma playwright and poet whose collaboration with Parne Gadje leader Marc Constandse has yielded a majestic piece of work. 'Bizoagor' merges the story of the ancient sojourn of the Rroma out of the Punjab with visions of dancing horses, roadside fires, the night sky and the cosmos. Constandses compositions around Abdula's poetry result in a sweeping and visionary soundtrack–like a dream perched on your shoulder. There's more to Constandse and his band than meets the eye….this is pure acoustic alchemy.
SR006 Order (5,99 Euro excl. postage)
---
BIG LOW – 'No Tears in Paradise'

If you listen closely enough you'll hear talking snakes and all sorts of strange creatures on this album. From the whispered folk sound of songs like 'When I Got Back' and 'Old Macleay' to the maddening drunken dirge of 'We Gunna Die Out Here' – No Tears is an album full of surprises. Dreamlike imagery, sounds that come from another planet and some unconventional instrumentation featuring the Parne Gadje lads. This is a singer/songwriter album you must have…
SR005 Order (5,99 Euro excl. postage)
---
PARNE GADJE – "O Manuš"

Parne Gadje soar over and above all expectations with their second full length album. Recorded live during marathon sessions in the Smoked studio over the course of 2003, 'O Manuš' forms a blistering account of the groups' virtuosity and emotional intensity. The crisp production has the guitar work sparkling over the dark pulse of this bandoneon driven Balkan style quartet and, as usual, singer Marc Constandses delivery is right on the money. Guaranteed to convert even the most unshakable purist. You'll search far and wide to hear a better world music album this year.
SR004 Order (5,99 Euro excl. postage)
---
Big Low "Ghost Hunt migration"

A ragged masterpiece of travelling songs and stories that drift out of your speakers like old sea ghosts. Strange percussive sounds, space guitars, samples and tape effects combined with more conventional instruments (guitar, violin, bass, dobro etc) form the backdrop for Australian Dan Tuffy's dangerous songwriting talents. At a stretch, you could place this stunning debut in the singer-songwriter/folk genre but to leave it at that would be selling the imagination evident here short. Stark, laid-back and big on atmosphere – Big Low will take you there.
SR001 Order (5,99 Euro excl. postage)
---
Big Low (live) "3 songs for 10 bucks"

"3 songs for 10 bucks" is exactly what you get but its not 10 bucks anymore – its 5 Euro or the equivalent in Zloty. Recorded live to hard disc at a gig back in February 2000, this little gem not only maps the seminal stages of Big Lows' existance; its a bona fide collectors item, an official personalised bootleg and will make a damn fine birthday present for someone you don't like very much! Honesty counts.
NO LONGER IN STOCK – DOWNLOAD ONLY
---
Parne Gadje

A whriling emotional concoction of Bosporus torch songs, Macedonian ballads, Rembetikas, RRoma polkas and Middle Eastern dirges. Set alight by frontman Marc Constandses' masterful bandoneon playing and red-blooded approach to interpreting the tunes, the untradional instrumentation of guitar, banjo (Michiel Hollander), home-built bass (Dan Tuffy), violin (Murray Cambell), hand percussion (everyone) and bandoneon is minimalist but blindingly effective. One listen and the question on everyones lips is "Where the hell does this stuff come from!". An absolute must for anyone even the slightest bit interested in the magnificent labyrinth of Balkan underground folk variations. Class, depth and beauty.
SR003 Order (5,99 Euro excl. postage)
---
Wild Pumpkins at Midnight" "Instant Ocean"

First released back in 1998 on their own label, "Instant Ocean" was the last album that Tasmanian psychadelic pop/folksters, the Wild Pumpkins at Midnight, ever got around to making. The band was well into its twilight period by then but after 13 years of touring and several unrequited brushes with the big time they still managed to come up with this slice of magic. Astonishing! Only 500 of these were ever pressed so this classic is as rare as rocking horse shit!"…starting somewhere around folk before arriving at a sort of burnished, sweetly executed pop" MOJO 1997″…one of Australias finest musical exports".
NO LONGER IN STOCK – DOWNLOAD ONLY